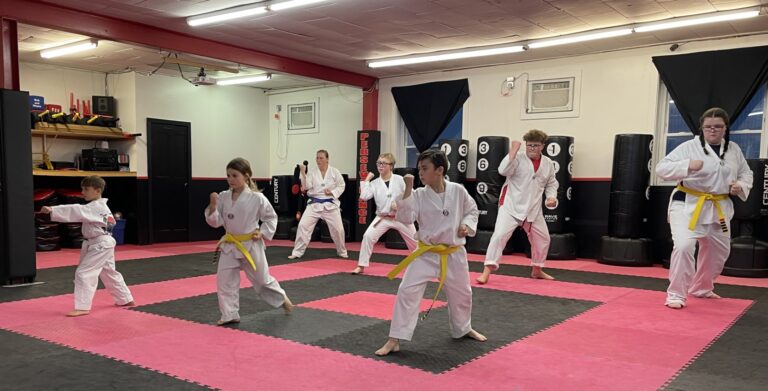 Congratulations to Our New Color Belts
BIG Congratulations to our newest Blackbelts… Lil' Ben Bishop and Gavin Ross!
Congratulations to the following students who tested recently: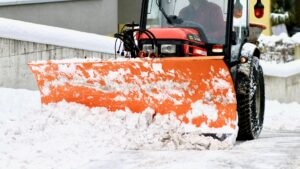 Inclement Weather Closures
As we enter the winter season, we want to share our policy regarding studio closure in the event of inclement weather conditions.
The safety and well-being of our students, their families, and our staff are of the utmost importance to us. In the event of severe weather conditions that may pose a risk to travel, we may need to cancel classes for the night.
We will make every effort to communicate this closure to you through various channels ahead of time, including:
Facebook: We will post an update on our official Facebook page.
Text Messages: We will send out a text message to the contact number we have on file for each student. Please see Master Tom to ensure we have the most up-to-date and accurate number.
Email: We will also send out an email notification to the address associated with the student account.
Additionally, please note that we will be following the decisions made by the Waverly School District with regard to severe weather conditions. If the district takes any of the following actions, our studio will also be closed:
Waverly closes school for the day;
Waverly shifts to virtual learning;
Waverly cancels afterschool activities; or
Waverly dismisses students early due to weather conditions.
We appreciate your understanding and cooperation in ensuring the safety for all. If you have any questions or concerns, please see Master Tom or feel free to reach out to us through any of the aforementioned communication channels.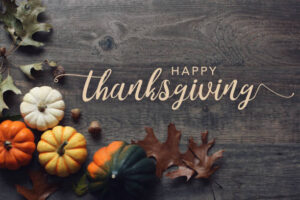 We will be closed on Thursday, November 23rd in observance of Thanksgiving Day. 
As we gather around the table this Thanksgiving, let's reflect on the invaluable lessons Tae Kwon Do imparts. Beyond kicks and punches, it teaches gratitude, respect, and discipline. To our Tae Kwon Do students and their families, we're thankful for your dedication, perseverance, and the vibrant community you bring to our dojang.
This year, let's celebrate the strength we've gained, the friendships we've forged, and the challenges we've overcome. May the spirit of Tae Kwon Do guide us not only on the mats but also in our daily lives. Happy Thanksgiving, may it be filled with joy, unity, and an abundance of blessings!
We are thrilled to announce that Sifu/Guro Peter Vargas will be leading an Arnis weapons seminar on Saturday, December 16th, starting at 1 pm at TTKD. Sifu Vargas has been training in various styles of martial arts since he was eight years old. He holds the distinguished title of being the highest-ranking American Modern Arnis Associates (AMAA) teacher and student globally. Additionally, he is the most esteemed instructor in Closed Crane Kung Fu. For more details and to register for the seminar click here.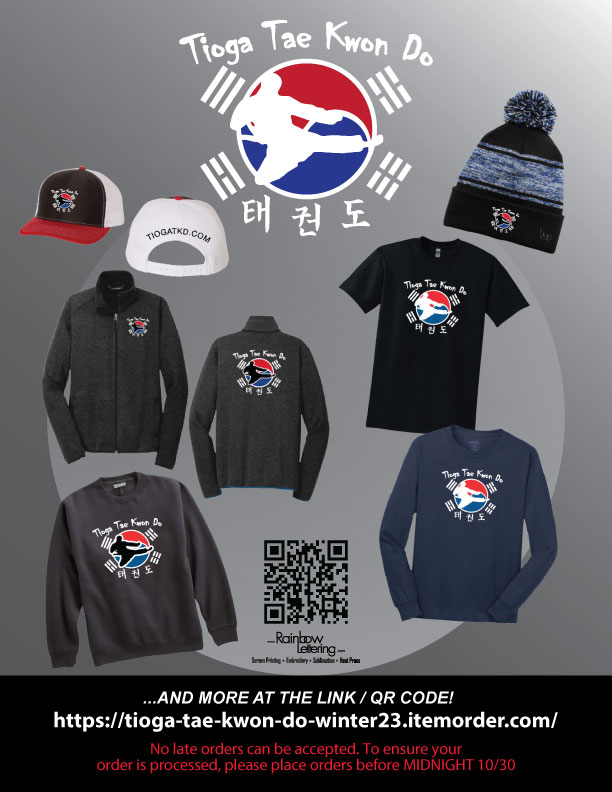 Winter Apparel Order Pickup
Thanks to everyone that participated in our winter apparel order this year. Our team store is now closed and Rainbow Lettering is currently in the process of fulfilling all orders, and they will be handed over to Master Tom once they are ready.
When ready, you can collect your order from the office at your convenience – whether it be before, during, or after class. If your order is intended as a gift and requires discreet pickup arrangements, please see Master Tom to coordinate an alternative pickup time outside of class hours, if necessary.
Thank you all for your continued support!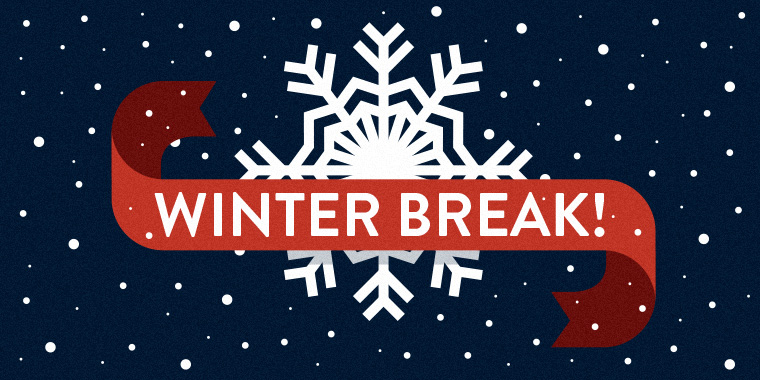 In order to allow our students and instructors some well-deserved time with their families, we will be closed for the last week of December and the first week of January. Please note that during this period, there will be no Taekwondo, Tiny Ninjas, or Cardio Kickboxing classes held.
Holiday Closure Dates:
Last Week of December: December 24th – December 30th
First Week of January: December 31st – January 6th
Classes will resume as usual starting the week of January 7th. We are excited to kick off the new year with renewed energy and enthusiasm, ready to tackle new challenges, and reach new heights in our training.
Please remember monthly tuition is due by the first class of the month. Tuition received after the 10th calendar day is subject to a $25 late fee.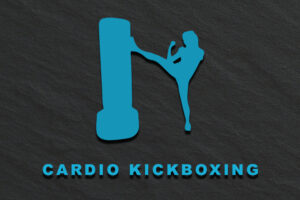 Saturday Tone & Kick Classes
These classes were developed for beginners, those seeking a slightly slower pace, or anyone looking for more instruction on form and technique than our Monday-Wednesday classes. 
At 9:00 AM, we will have a 45 minute toning class. If you have free weights, please bring them. This class will focus on core conditioning, arm toning, and flexibility.
At 10:00 AM, we will have a 45 minute cardio kickboxing class. This pace of this class will be slightly slower then our usual cardio classes, and greater in-depth instruction on how to hit the bags with proper form and technique will be provided.
For more information, please see Master Tom or Lyndsey.

These classes are once a month and open to all black belt and provisional black belt students at no additional charge. Our next Black Belt Class will be on Monday, November 13th @ 7:15 PM. This class focuses on advanced techniques, black belt forms, instructor training, and black belt philosophy.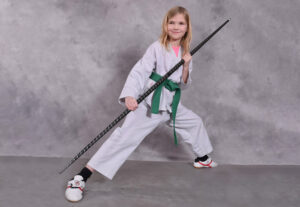 Our next Weapons Class will be on Monday, November 20th @ 7:15 PM.
This class is once a month and open to all students, blue belt and up, at no additional charge. 
If you have your own weapon(s), you are welcome to bring them to this class to practice with. We have nunchucks and bo staffs available for anyone that doesn't have their own weapon.
This month's testing will be on Friday, November 17th. Testing will begin promptly at 5:30 PM. Doors will open at 5:00 PM. Please arrive early enough to stretch, warm-up, and run through your forms and 1-steps a few times. Stretching and warming-up are not part of the test.
All Students will be notified at least one week in advance. Test fees are due by the Thursday before the test. Payments must be made prior to the test night.
*This will be the last test of 2023. Testing will resume in January 2024.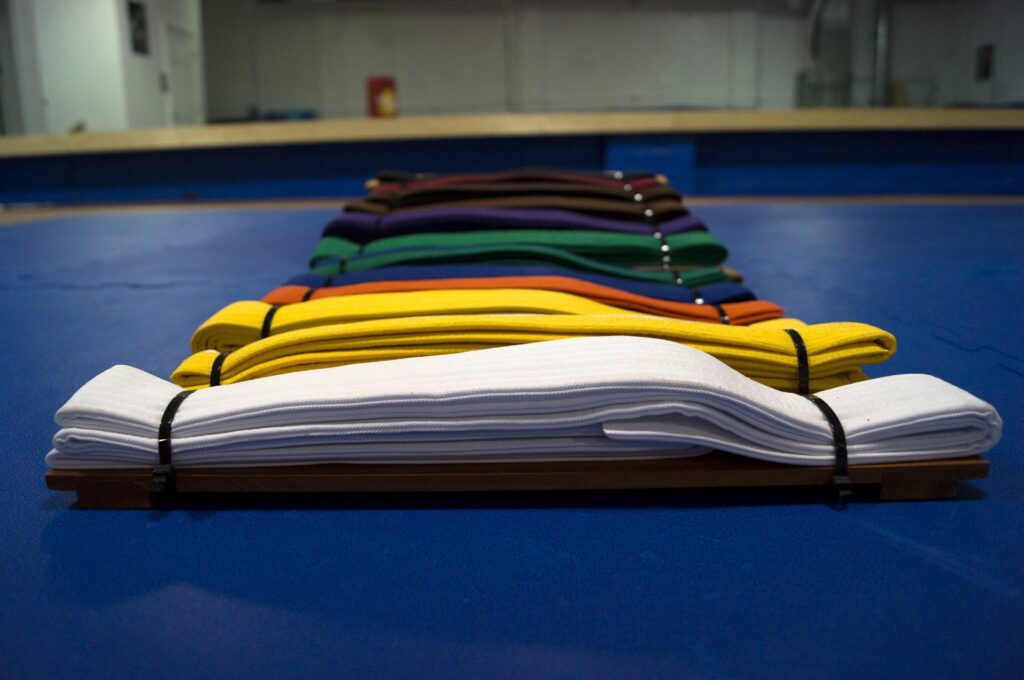 White TTKD uniform and belt are required
NO T-SHIRTS! NO COLORED PANTS!
*Anyone arriving after 5:30 PM, will not be permitted to test and must wait until the next test date.
Tioga Tae Kwon Do Tournament for Scholars
Athens Area High School, Athens, PA 18810
March 23, 2024
Divisions available for all white belts through black belts. Students will be divided into brackets based on age and belt rank. Registration forms will be available closer to the date of the tournament. Discounts available for early registrations. 
If you have any questions, please see Master Tom.
Doors will Open at 9:00 AM
Black Belt Meeting at 9:30 AM
Bow in and Tournament Begins at 10:00 AM
Weapons (Blue Belts and up)
Forms
Workshops & Special Events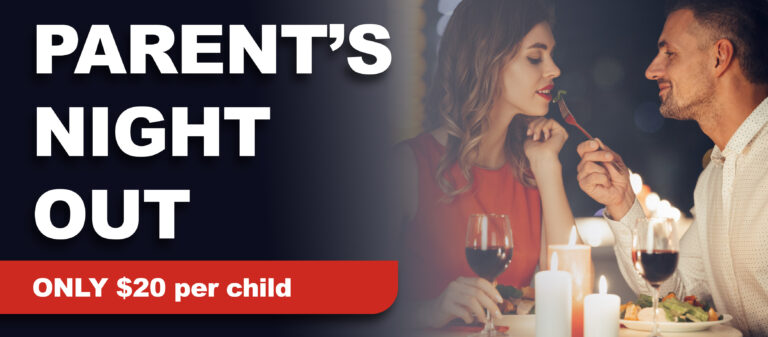 Our next parents' Night Out will be Friday, December 15th 6:00 pm – 9:00 pm. Will will have pizza, popcorn, and drinks provided by TTKD. We will be doing a holiday craft, engage in an epic NERF battle, and watch a holiday movie (PG). For more details and to register, please visit our special events page.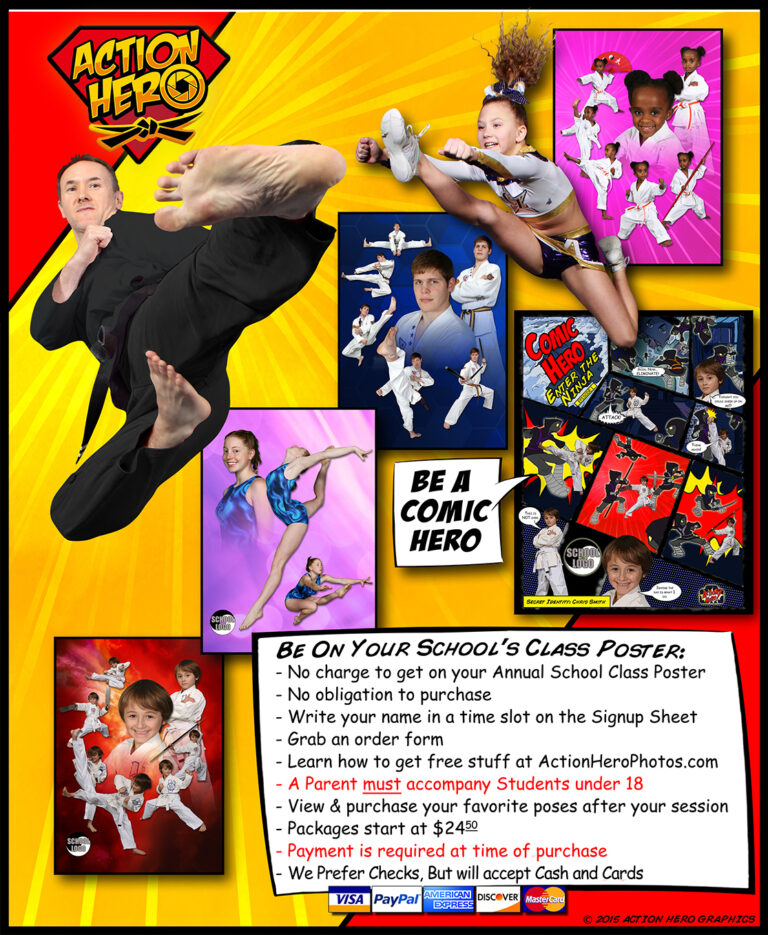 This year's photoshoot will be on Thursday, January 11th. We will have signup times posted on the office door closer to the date of the event. No purchase is necessary to be part of the photoshoot, and all students who participate will have their picture as part of our 2024 School Poster. Below our class poster from last year's photoshoot.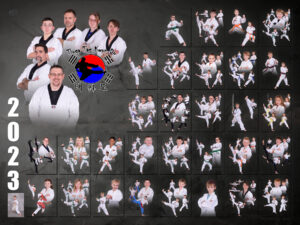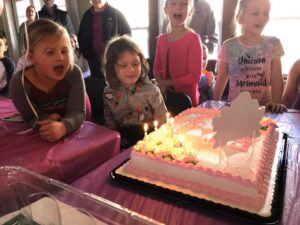 Private Lesson/
Workshop/Party
Interested in holding a private lesson, workshop, or party? TKD… Self Defense… Birthday Party… See Master Tom for details.